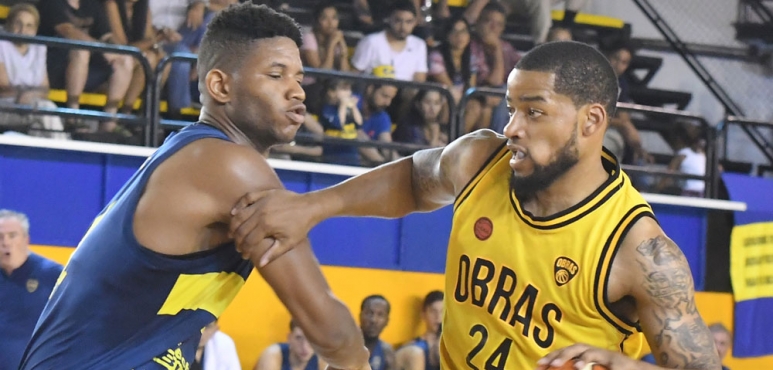 Profile
Dion Dixon was born and raised in Chicago, IL. A standout at Crane Technical Prep, Dixon finished his senior year by averaging 21.8 points, 5.6 rebounds, and 2.2 steals per game. The leading scorer in the city of Chicago as a senior, Dixon earned special mention All-State honors from the Associated Press. Following his very successful high school career, Dixon became an integral member of the University of Cincinnati's basketball team. Dixon's presence was felt immediately, as he provided a scoring spark off the bench his first two seasons. As a junior, Dixon earned a spot in the starting rotation, where he averaged 26.8 minutes a game and scored double figures in 23 of his 35 games played that season. During his senior campaign, Dixon started all 37 games and played an average of 34.2 minutes a game. He averaged 13 points, 1.6 steals, 2.1 assists, and 3.4 rebounds per game. He finished career at the University of Cincinnati as the school's all-time leader in games played (137) and 22nd in in points scored (1,281).
As a rookie Dixon had a great season in Cyprus with AEK Larnaca Basketball Club, winning the championship and being named Rookie of the Year.
The following season he had another great season, this time in Lebanon, where he's been named, All-Lebanese League Player of the Year, Guard of the Year, Newcomer of the Year and Import of the Year. He is quite experienced player. Dixon has played in five different countries on four different continents (Europe, Asia, Latin America and of course North America). He has played previously professionally in Cyprus (Petrolina AEK Larnaca), Venezuela (Marinos), FYR Macedonia (MZT Skopje), NBA G League (Salt Lake City Stars), Lebanon (Sagesse and Homenetmen), Tunisia (Club Africain Tunis), Greece (GS Kymis), Uruguay (Urunday) Dominican Republic (Indios de San Francisco), Argentina (Obras Basket Buenos Aires) and Saudi Arabia (Al Wehda Mecca).
Awards/Achievements
Big East Tournament Finalist -12
NCAA Sweet 16 -12
Cyprus Cup Semifinals -13
Cyprus League Regular Season Runner-Up -13
Cyprus League Champion -13
Eurobasket.com All-Cyprus League Rookie of the Year -13
Eurobasket.com All-Cyprus League Honorable Mention -13
Asia-Basket.com All-Lebanese League Player of the Year -14
Asia-Basket.com All-Lebanese League Guard of the Year -14
Asia-Basket.com All-Lebanese League Newcomer of the Year -14
Asia-Basket.com All-Lebanese League Import of the Year -14
Asia-Basket.com All-Lebanese League 1st Team -14
Asia-Basket.com Lebanese League All-Imports Team -14
Macedonian Cup Semifinals -15
Lebanese Cup Finalist -16
Argentinian LaLiga Torneo Super 20 Semifinals -18
Argentinian La Liga -19 (Player of the Week Rd.14)
Stats
| Season | Team | League | PPG | RPG | APG | FT | PT2 | PT3 | MIN |
| --- | --- | --- | --- | --- | --- | --- | --- | --- | --- |
| 20/21 | KB Peja (KOS) | Kosovo - SuperLeague | 18.6 | 4.4 | 6.3 | 65.8% | 47.4% | 32.6% | 38 |
| 19/20 | CD Valdivia | Liga Nacional | 14 | 3.3 | 4.3 | 74.5% | 57.8% | 23.7% | 32.1 |
| 18/19 | Indios SFM | Dominican Republic- LNB | 5.6 | 1.9 | 1.9 | 41.7% | 44.4% | 33.3% | 20.7 |
| 18/19 | Obras Sanitarias | La Liga | 12.8 | 2.1 | 2.9 | 65.8% | 52.4% | 34.9% | 30.6 |
| 17/18 | Club Africain Tunis | TUNISIA - Division I | 18 | 3.7 | 3.3 | 66% | 52.1% | 35.2% | 30.1 |
| 17/18 | U.Universitario | URUGUAY - LUB | 18 | 3.7 | 3.3 | 92.3% | 80% | 25% | 35.3 |
| 16/17 | Kymis | GREECE - A1 | 2 | - | 1 | - | 100% | - | 17 |
| 15/16 | Marinos de Anzoategui | VENEZUELA - LPB | 11.6 | 3.8 | 3.9 | 59.4% | 61.7% | 38.6% | 25.1 |
| 15/16 | SAGESSE | Lebanon-LBL | 20.6 | 3.8 | 3.9 | 80.4% | 38.9% | 40.6% | 36.6 |
| 14/15 | Homenetmen Beirut | LEBANON - DIVISION A | 27.8 | 4.9 | 7.3 | 75.3% | 59.7% | 29.5% | 39.8 |
| 14/15 | MZT Skopje (FYROM) | Adriatic League | 8.6 | 2.2 | 1.5 | 62.9% | 46.7% | 28.3% | 22.5 |
| 14/15 | MZT Skopje | FYR MACEDONIA - SUPERLEAGUE | 11 | 2.2 | 2.3 | 88.2% | 60% | 34.5% | 19.3 |
| 13/14 | Homenetmen Beirut | LEBANON - DIVISION A | 24.7 | 5.3 | 4.5 | 88.3% | 51.8% | 21.6% | 39.1 |
| 12/13 | AEK Larnaca | CYPRUS - DIVISION A | 11.4 | 3.5 | 2.6 | 61.7% | 51.2% | 33.3% | 27.5 |
| 11/12 | Cincinnati Bearcats | USA - NCAA | 13 | 3.4 | 2.1 | 69.9% | 37.1% | 26.1% | 34.2 |
| 10/11 | Cincinnati Bearcats | USA - NCAA | 11.6 | 2.9 | 1.9 | 76.2% | 41.5% | 35.6% | 26.8 |
| 09/10 | Cincinnati Bearcats | USA - NCAA | 4.9 | 2 | 1.1 | 75% | 35.1% | 21.5% | 15.8 |
| 08/09 | Cincinnati Bearcats | USA - NCAA | 7.3 | 3.1 | 1.4 | 66.7% | 36.7% | 30.5% | 21.9 |