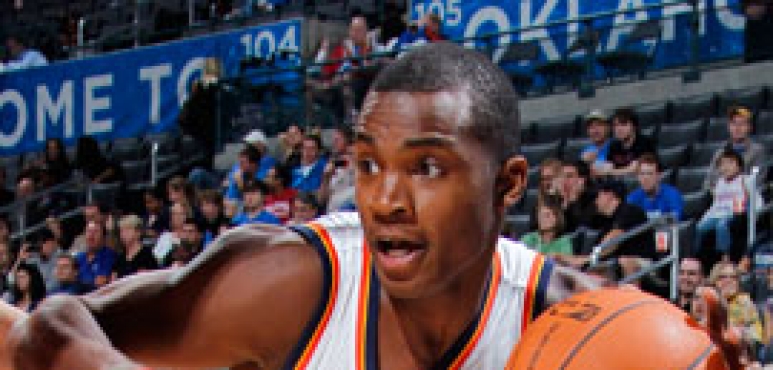 Profile
Elijah Millsap is a 6'6, 215 pound Small Forward/Shooting Guard. He left the University of Alabama Birmingham after his Junior year of college and entered the NBA Draft. it has been said among NBA Personnel that had he stayed his Senior Season he would have surely been picked in this years weak draft.
After being undrafted he played SUmmer League in Las Vegas for the Detroit Pistons. He went through the pre-season with the Oklahoma City Thunder where he was the last player cut. He then played for their NBA D League affiliate, the Tulsa 66ers where during the regular season he averaged 15.2 points, 5.3 rebounds, 2.6 assists and 1.2 steals. Some of the highlights of his regular season were games of 28 points and 25 points. In the Playoffs he averaged 20 points and 7 rebounds.
Elijah has a great work ethic, plays hard on both the offensive and defensive end of the court and relies a lot on his defense to create offense for him. He is one of thos players who does everything good. He has NBA size and could very well earn himself a spot on an NBA team. If this is not the case, he is capable of being a great player at a high level in Europe.
Awards/Achievements
Sun Belt West Division Regular Season Runner-Up -08
All-Sun Belt Freshman of the Year -07
NIT Elite Eight -10
NABC Division I All-District 11 1st Team -10
All-C-USA 1st Team -10
D-League Semifinals -11
Usbasket.com All-United States Shooting Guard of the Year -12
Gatorade All-D-League 2nd Team -12
USBasket.com All-D-League 2nd Team -12
D-League Finalist -12
D-League West Conference Champion -12
D-League All-Star Game -12
PBA Governor's Cup Finalist -13
PBA Governor's Cup Regular Season Champion -13
Asia-Basket.com All-PBA Governor's Cup 1st Team -13
Asia-Basket.com All-PBA Governor's Cup Guard of the Year -13
USBasket.com D-League All-Defensive 3rd Team -13
D-League West Division Champion -14
PBA Governor's Cup Semifinals -16
PBA Governor's Cup Regular Season Runner-Up -16
USA National Team -17
Uruguay LUB Finalist -19
Uruguay LUB Regular Season Champion -19
FIBA World Cup 2019 Qualifiers -19

Stats
| Season | Team | League | PPG | RPG | APG | FT | PT2 | PT3 | MIN |
| --- | --- | --- | --- | --- | --- | --- | --- | --- | --- |
| 18/19 | USA | WORLD CUP | 5 | 4 | 1.5 | 66.7% | 40% | - | 13 |
| 18/19 | MALVIN | URUGUAY - LUB | 8.6 | 3 | 3 | 57.1% | 39.4% | 18.8% | 19.6 |
| 18/19 | Leche Rio Breogan | SPAIN - Liga Endesa | 7 | 1.9 | 0.9 | 72.4% | 37.1% | 33.3% | 15.4 |
| 17/18 | IOWA | NBA G-League | 15.1 | 5.3 | 2.3 | 78.2% | 40.9% | 37.4% | 29.2 |
| 17/18 | USA | WORLD CUP | 5 | 4 | 1.5 | 66.7% | 40% | - | 13 |
| 16/17 | San Miguel | Philippines - PBA | 24.7 | 11.7 | 4.6 | 64% | 38.3% | 35.4% | 38.1 |
| 16/17 | N.Arizona S. | USA - D-League | 19.8 | 7.8 | 4 | 73.2% | 48.4% | 30.8% | 36.5 |
| 16/17 | Phoenix Suns | USA - NBA | 1.5 | 3 | 0.5 | 50% | 20% | - | 11.5 |
| 15/16 | Maccabi Tel Aviv[ISR] | Eurocup | 6.5 | 4.5 | 1 | - | 50% | 16.7% | 16 |
| 15/16 | UTAHJAZZ | USA - NBA | 1.8 | 1.8 | 1 | 72.2% | 37% | 8.3% | 8.7 |
| 15/16 | Maccabi Tel Aviv | ISRAEL - WINNER LEAGUE | 8 | 2.8 | - | 77.8% | 53.3% | 27.3% | 14.8 |
| 14/15 | Utah Jazz | USA - NBA | 5.3 | 3.2 | 1.2 | 67.4% | 35.8% | 31.1% | 19.7 |
| 14/15 | Bakersfield Jam | USA - D-League | 20.6 | 8.2 | 5.2 | 76.3% | 46.7% | 33.9% | 35.9 |
| 13/14 | Los Angeles D-Fenders | USA - D-League | 6.3 | 2.4 | 0.7 | 75% | 55.6% | - | 10.7 |
| 13/14 | Maccabi Ashdod | ISRAEL - WINNER LEAGUE | 12.6 | 6.4 | 1.5 | 59.5% | 42.7% | 15.8% | 25.1 |
| 12/13 | Los Angeles D-Fenders | USA - D-League | 16.9 | 6.1 | 3.4 | 75.3% | 41.9% | 33.8% | 33.4 |
| 11/12 | Los Angeles D-Fenders | USA - D-League | 20 | 6.3 | 3.1 | 78.7% | 46.2% | 39% | 33.4 |
| 10/11 | Tulsa 66ers | USA - D-League | 15.7 | 5.4 | 2.6 | 75.1% | 46.6% | 34.3% | 28.6 |
| 09/10 | UAB | USA - NCAA | 16.1 | 9.5 | 1.8 | 69.5% | 43.5% | 24.1% | 33.1 |
| 07/08 | LA Lafayette | USA - NCAA | 9.4 | 5.4 | 1.4 | 58.3% | 36.7% | 30.8% | 22 |
| 06/07 | LA Lafayette | USA - NCAA | 12.4 | 7.3 | 0.9 | 53.1% | 45.5% | 39.3% | 25.2 |