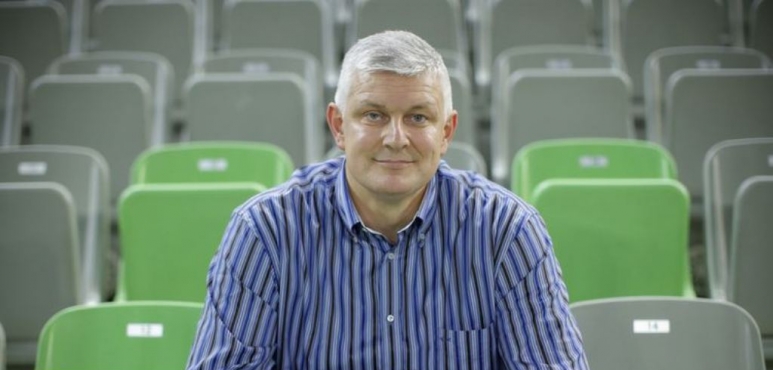 ---
Profile
AAlibegović was born in 1967 in Zenica, Bosnia-Herzegovina, previously part of Yugoslavia. During his youth, he joined KK Olimpija Ljubljana Slovenia and then KK Bosna Sarajevo Bosnia and Herzegovina.
In 1988, Alibegović began studying business and communications at Oregon State University where he played basketball, coached by the legendary Hall of Fame Coach Ralph Miller. His teammates included Gary Payton (NBA Seatle Supersonics/Miami Heat), Brent Berry (NBA San Antonio Spurs) and Scot Haskin (NBA Indiana Pacers).
Following his college experience, he received tryout invitations from NBA teams, including the Seattle Supersonics, New Jersey Nets and Miami Heat.
In his first pro season, Teo joined the Italian club Fortitudo Bologna where he became a local sports hero.
From 1993 to 1996, he played with the German club Alba Berlin, helping them to win the FIBA Korać Cup championship. He continued his career with the Turkish club àœlkerspor Istanbul. He then returned to Italy, this time playing in Trieste.
From 1999 to 2002, he played for the Italian club Snaidero Udine.He was part of the legendary Yugoslavia Dream Team where he was coached by Hall of Fame coach Svetislav Pesic, along with his teammates Divac, Kukoc, Radja, Djordje- vi and the late Drazen Petrovič.
He started his coaching/management career before the 2003–04 season when he was appointed the head coach of Udine.
In 2005, he became the general manager of Fortitudo Bologna.He was the head coach of Leagea Scafati from December 2006 to November 2007.
From 2008 to 2010, he was head consultant of Udine. During his career as coach and manager, he selected players that later signed with NBA franchises and Euroleague teams. He also generated a sizeable revenue for his teams from player transfers. He managed and worked with teams whose budgets were from €5 million to €21million.
---
2002-2003
:

Snaidero Udine (Italy-SerieA)
Head Coach/
General Manager
2003-2004: Snaidero Udine (Italy-LegaA) Head Coach/General Manager
2004-2005: Snaidero Udine (Italy-LegaA) Head Coach/General Manager
2005-2006: Climamio Bologna (Italy-SerieA) General Manager
2006-2007: Legea Scafati Basket (Italy-SerieA) Head Coach
2007-2008: Legea Scafati Basket (Italy-SerieA); Head Coach
2009-2010: Snaidero Cucine Udine (Italy-Lega2) General Manager
HONOURS
ACHIEVEMENTS
Italian SerieA Supercup Winner -05
Italian SerieA Regular Season Champion -06
Italian SerieA Finalist -06

---