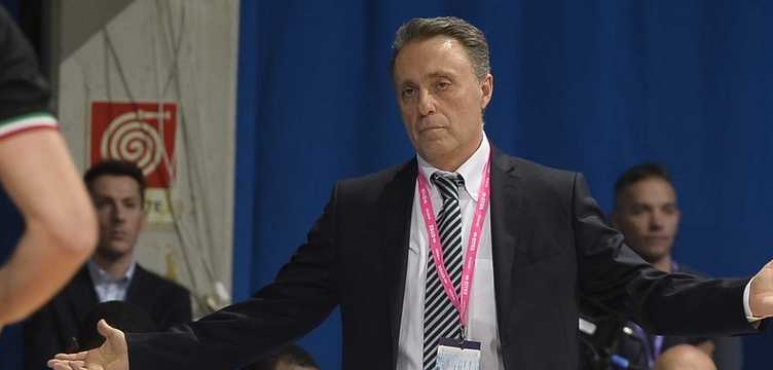 ---
Profile
Piero Bucchi has started his coaching career at a very young age with Virtus Bologna. Here, he had the chance to work with Ettore Messina for 8 years.
He then moved to Basket Rimini in 1992, staying with the team for 7 years. He started as an assistant coach but then, in March 1996, was promoted to head coach and, after an incredible winning streak, led the team to the finals of the Italian LegaDue.
The following season (96/97) he easily won the Italian LegaDue with Basket Rimini and was awarded with the "Coach of the Year" prize.
He will stay in Rimini, in the Italian Serie A, for the next two seasons, leading the team to two incredible and unexpected qualifications for the KORAC Cup.
In 1999/00 he moved to Benetton Treviso, where he signed a 2-years deal. In his first season in Treviso he won a Coppa Italia, reached the finals and won the �Coach of the Year� award. In the second season he reached the semifinals. He played the Euroleague in both of his seasons in Treviso.
In 2001/02 he had an experience in Poland, with the Slask Wroclaw, where he also played in the Euroleague.
After this time in Poland, he returned to Italy with Napoli, winning the Italian LegaDue.
In 2002/03 he signed a 3-years deal with Virtus Roma. In Roma he reached two semifinals and played the Euroleague.
In 2005/06 he returned to Napoli with a 3-years deal. The first year has been amazing. He won the �Coppa Italia�, reached the semifinals and qualified for the Euroleague. This has been the only time Napoli participated to the Euroleague.
In 2008/09 Mr. Giorgio Armani brought him to Olimpia Milano. In Milan he played the Euroleague for three consecutive seasons, reaching the Top 16 in his first year. He played in the finals for two consecutive seasons but lost to the incredible Montepaschi Siena.
After his time in Milan, he decided to face a different and interesting challenge: in 2010/11 he inked a 3+2-years deal and became head coach of a young club, Enel Brindisi.
In his first season he won the �Coppa Italia di LegaDue� and won the Italian LegaDue. During the following seasons in the Italian Serie A, he played the �Coppa Italia� for three consecutive seasons and reached the playoffs multiple times in a row. In 2014/15 he played the FIBA Eurochallenge and reached the quarter-finals playoffs. In 2015/16 he played the Eurocup. In 2016 he entered in the top 10 of the most winning coaches in the history of the Italian Serie A.
Professional Career
| Season | Role | Team | League |
| --- | --- | --- | --- |
| 18/19 | Head Coach | Virtus Roma | Italy- a2 |
| 17/18 | Head Coach | Virtus Roma | Italy A2 |
| 16/17 | Head Coach | Pesaro | Italy- Serie |
| 15/16 | Head Coach | Enel Brindisi | Italy - SerieA |
| 14/15 | Head Coach | Enel Brindisi | Italy - SerieA |
| 13/14 | Head Coach | Enel Brindisi | Italy - SerieA |
| 12/13 | Head Coach | Enel Brindisi | Italy - SerieA |
| 11/12 | Head Coach | Enel Brindisi | Italy - SerieA |
| 10/11 | Head Coach | Milano | Italy - SerieA |
| 09/10 | Head Coach | Milano | Italy - SerieA |
| 08/09 | Head Coach | Milano | Italy - SerieA |
| 07/08 | Head Coach | Napoli | Italy - SerieA |
| 06/07 | Head Coach | Napoli | Italy - SerieA |
| 05/06 | Head Coach | Napoli | Italy - SerieA |
| 04/05 | Head Coach | Virtus Roma | Italy - SerieA |
| 03/04 | Head Coach | Virtus Roma | Italy - SerieA |
| 02/03 | Head Coach | Virtus Roma | Italy - SerieA |
| 01/02 | Head Coach | Napoli | Italy - A2 |
| 01/02 | Head Coach | Slask Wroclaw | Poland |
| 00/01 | Head Coach | Benetton Treviso | Italy - A1 |
| 99/00 | Head Coach | Benetton Treviso | Italy - A1 |
| 98/99 | Head Coach | Basket Rimini | Italy - A1 |
| 97/98 | Head Coach | Basket Rimini | Italy - A1 |
| 96/97 | Head Coach | Basket Rimini | Italy - A2 |
| 95/96 | Head Coach | Basket Rimini | Italy - A2 |
| 95/96 | Assistant Coach | Basket Rimini | Italy - A2 |
| 94/95 | Assistant Coach | Basket Rimini | Italy - A2 |
| 93/94 | Assistant Coach | Basket Rimini | Italy - A2 |
| 92/93 | Assistant Coach | Basket Rimini | Italy - A2 |
| 91/92 | Head Coach | Virtus Bologna | Italy - Cadet & Junior Team |
| 90/91 | Head Coach | Virtus Bologna | Italy - Cadet & Junior Team |
| 89/90 | Head Coach | Virtus Bologna | Italy - Cadet & Junior Team |
| 88/89 | Head Coach | Virtus Bologna | Italy - Cadet & Junior Team |
| 87/88 | Head Coach | Virtus Bologna | Italy - Cadet & Junior Team |
| 86/87 | Head Coach | Virtus Bologna | Italy - Cadet & Junior Team |
| 85/86 | Head Coach | Virtus Bologna | Italy - Cadet & Junior Team |
| 84/85 | Head Coach | Virtus Bologna | Italy - Cadet & Junior Team |
HONOURS
ACHIEVEMENTS
Italian League Finalist -00
ULEB Euroleague Quarterfinals -01
Italian A1 League FinalFour -01,03
Polish League Supercup Finalist -01
Italian Cup Winner -06
Italian SerieA Semifinals -06
Italian SerieA Supercup Finalist -06
Italian SerieA Finalist -09, 10
Italian Lega Due Cup Winner -12
Italian Lega Due Play-Offs Champion -12
Italian Cup Semifinals -14, 15
EuroChallenge Quarterfinals -15
3 Italian LegaDue Championships: (Rimini, Napoli, Brindisi)
3 Coppa Italia: (Treviso, Napoli, Brindisi (LegaDue))
3 Italian Serie A finals: (Treviso, Milano, Milano)
---