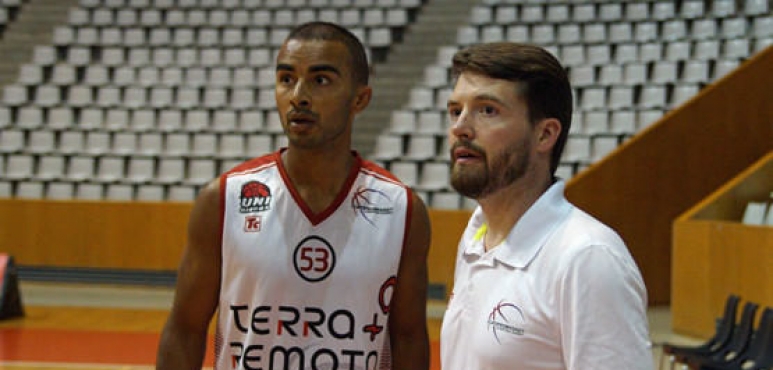 ---
Profile
Strong network of players, coaches, agents & front office staff across Europe, Australia and U.S.A.

Successful work with players of D-League, VTB, Euro-League, National league's and NBA Experience.

Excellence developing national team players. National team players in: Australia, Germany, Ireland & Spain.

Firm understanding working with elite athletes to retain success & develop new approaches to maximise performance.

Diligent recruiter with the ability to persuade and counsel excellent players & coaches.


Positive leader with a strong work ethic. Winning and developing together. Growing a successful culture throughout our program.
19 years coaching through professional, semi-professional, international and elite junior levels.
Multiple positions: head coach, assistant coach, video coach, advanced scout, player development, coach educator & clubdevelopment manager.
Head Coach of 2 National Championships & Assistant of 2 National Championships. Multiple League titles & play-off appearances inthe majority of those 19 years.
Established successful philosophy and current with professional and international trends, concepts and tactics.
Proficient in use of sports code elite, fast scout, fast draw, synergy and other platforms.
Serious, honest, professional with a proven record in driving the development of basketball organisations and ambitious athletes.
Current on the latest approaches in strength, conditioning and power, injury prevention and sports psychology.
Educating players & aspiring coaches in area's of scheduling, planning, team travel, nutrition, sleep, high performance, wellness, anti-doping, anti-gambling, savvy with media and social media.
---
2000-2009: Templeogue Azzurri Dublin, Ireland Multiple junior teams Head Coach
2007-2008: Trinity College Dublin men's varsity Head Coach
2009-2010: DCU St Vincent's (D1) men Head Coach
2011-2014: Perth Wildcats (NBL) Coach Assistant and Video Scout
2010-2011: Templeogue U18 men Head Coach
2011: Cockburn Cougars (SBL) women team Head Coach
2012: Cockburn Cougars (SBL) women team Head Coach
2013: Cockburn Cougars (SBL) women team Head Coach
2014: Western Australia U18 men state team Coach Assistant
2014-2015: BSG Basket Ludwigsburg (Germany-2.Regionalliga), Head Coach
2014-2015: MHP Riesen Ludwigsburg (Germany-BBL) Coach Assistant
2014-2015: Porsche BBA Ludwigsburg (NBBL U19) Head Coach
2015-2016: VfL Kirchheim Knights (Germany-ProA), only pre-season Coach Assistant
2016-2017: Giants TSV 1861 Noerdlingen (Germany-ProB) Head Coach
2017-2018: Leeds Force (United Kingdom-BBL) Head Coach

2018-2019: Parma Basket Perm (Russia-VTB-League), also coach at Parma Perm 2nd team (VTB-Youth League) Coach Assistant
2020: Taylor Hawks (New Zealand-NBL) Head Coach
2020-2021: KIT SC Karlsruhe (Germany-ProB) Head Coach
2021-2022:Cyprus-OPAP Basket League
2022-2023: Laguna Sharks Bucuresti (Romania-Liga I)
HONOURS
ACHIEVEMENTS
Russia Cup Winners 2018/19
Australia V Lithuania, Croatia, Slovenia , European Tour 2015
TPG pro scout school, Las Vegas 2015
Germany BBL Playoffs 2014/15
Germany NBBL Playoffs 2014/15
Australia V China Sino-Australia Challenge 2014
Australia NBL Champions 2013/14
Australia V China Sino-Australia Challenge 2013
West Australian WSBL Playoffs 2013
West Australian MSBL Champions 2012
Ireland U18 Men's National Cup Champions 2010/11
Ireland U18 Men's National Cup Champions 2010/11
Turkey, F.I.B.A World Championships 2010 ,Children of the World Camp CoachIreland Varsity Men's National Cup Champions 2008/09
Head Coach, Northern Ireland U15 Men. (Provincial Academy B.I) 2009
Head Coach, Dublin U14 Boy's (Final Four 2005)

---