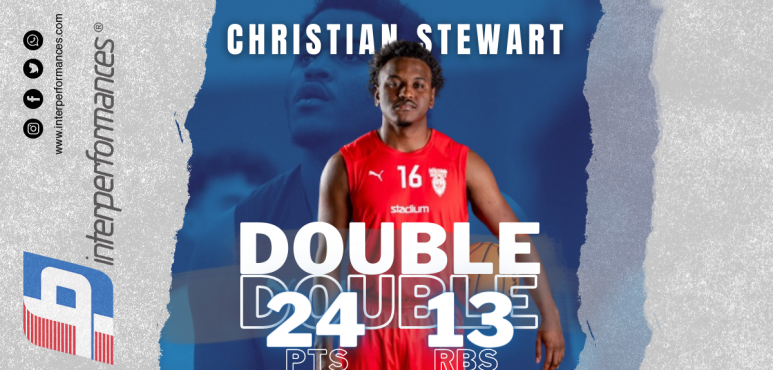 American Forward Christian Stewart's Double-Double Leads Hogsbo to Victory
On March 4th, 2023, Hogsbo faced Norrort in an exciting game between two of the top four teams in Taby, Sweden. Hogsbo, the first-ranked team with a record of 19-1, emerged victorious over Norrort, the third-ranked team with a record of 12-8, with a score of 85-77. American forward
Christian Stewart
, who joined Hogsbo as a rookie this season, was the star of the game, scoring a double-double with 24 points and 13 rebounds.
Hogsbo's victory against Norrort was the ninth consecutive win for the team, and they maintain their first-place position in the league with a record of 19-1. Norrort remains in the third position, with eight games lost. Hogsbo's next game will be against Eskilstuna at home, while Norrort will play against RIG Mark.
Christian Stewart's performance in the game against Norrort was not surprising, given his impressive track record. The 6.7 rookie from Irondale, Alabama, joined Hogsbo Basket in Sweden after graduating from Birmingham Southern College. During his college career, Stewart was named to the All-SAA first team for two seasons in a row and was awarded his third all-conference selection. In his senior year, he recorded 15 double-doubles over the season, ending his career with 1,451 points, ranking sixth all-time in points scored at Birmingham-Southern, and 783 rebounds, ranking second all-time in Panther history. Furthermore, Stewart also recorded a Birmingham-Southern single-game record of 22 rebounds during the season. He was named to the All-Tournament team following the SAA Championship game, cementing his place as one of the best players in college basketball.
Stewart's strong performance in his rookie year for Hogsbo Basket indicates that he is continuing to excel in his basketball career. With his impressive track record and dedication to the sport, he is sure to continue making a name for himself both in Sweden and beyond.