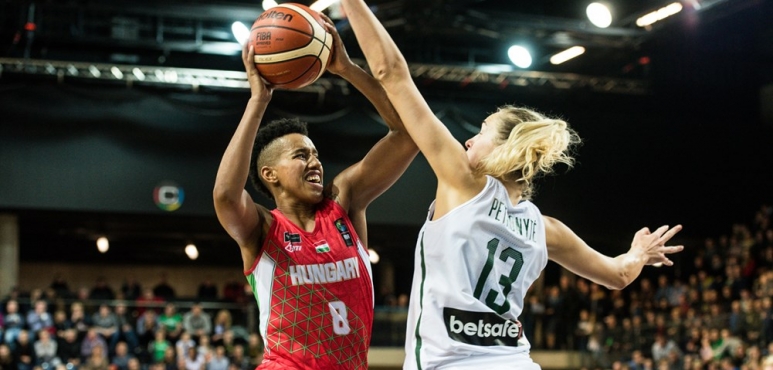 IP female clients in Europe
Cyesha Goree the new Hungarian national team player (therefore a Bosman A passport) had a very nice start on her first game in the Hungarian jersey. The red-white-green team stole the victory from Lithuania and Goree had 21 points and 7 rebounds. The 191 cm tall American-Hungarian center is averaging a solid 10.4 points and 10.2 rebounds double-double in EuroCup.

Ally Malott and her TTT Riga started the season with a 10-0 record included EuroCup, Latvian-Lithuanian League and EEWBL. Malott is averaging 10+ points and 40%+ 3PT percentage in all competitions and had an amazing nightin the last round of EuroCup where she scored 27 points, grabbing the 86:85 victory.

Hungarian Euroleague Legend Zsofia Fegyverneky and her Sopron Basket team had an amazing season start in Euroleague! Zsofi collected 4.6 points and 3.7 assist per game for Sopron which stands on the second place in Group A in Euroleague.
Class '98 PG Agnes Studer helped her hometown team to advance in EuroCup group stage with amazing 15 points, 7 rebounds, 6 assists game against Nymburk. Studer and her KSC stands on 1st place in Hungary without any lost game.

Zsofia Simon averages 11.0 points and 3.7 assists in EuroCup for UNI Gyor. Simon had 17 points game against french Nantes on the least round and kept alive their chances to advance in EuroCup.

Kirby Burkholder just continued where she finished last year in Hungary. Still one of the best players of the league and also averages 15.2 points, 4.0 rebounds and 2.2 assistis in EuroCup for DVTK.

Former Dayton guards, Sam Mackay and Kelley Austria, are doing really well in Greece. Mackay is the 5th best scorer of the league with 17.5 points. This experienced Point Guard, who also played in Hungary, France, Estonia, is averaging also 4.8 assists per game.
Kelley Austria is collecting 14.4 points per game with an amazing 47.4% 3PT percentage on her rookie season for Lefkadas.

Feyonda Fitzgerald and Miah Spencer are the rookie PGs in Poland. Fitzgerald is the 5th best scorer in the league with 17.1 ppg. She is adding also 3.9 rebounds and 3.9 assists per game for AZS UMCS. Former NC STate guard Miah Spencer is having 13.5 points and 5.5 assists in EuroCup but unfortunately her Gorzow will not advance from the Group.

Niki Avery the Greek-American double passported PG is dominating in Cyprus. Keravnos won the EuperCup and they are collecting victories every week. The New York Playground Legend, Avery is leading the team in points and assists!

Sarah Curran and Cornelia Fondren are the new faces of the rebuilt Lekdetec team in Netherlands. Syracuse guard Fondren is averaging 17.6 points, 11.2 rebounds and 4.7 assits per game while the former Drexel forward Curran has 22.9 points and 10.3 rebounds.

Katie Frerking former Auburn forward started her pro career in Sweden for Lulea Basket. Katie has 10+ points and 6+ rebounds in swedish league and EEWBL as well. Hollie Mershon, PG of Lule's roval Umea got ACL injury and she's spending her rehab in USA. We wish her a quick recovery, Hollie!

Bre McDonald started the season in Sweden but had an amazing chance to wear the uniform of Barcelona so she signed to Spain. Bre already played her first games in Spain and has 13.0 ppg and 3.0 rpg.

Croatian center Andrijana Cvitkovic started her first season in Hungary after Dayton years. Andrijana has 7.9 points and 4.0 rebounds per game. Alexus Cooper former guard of Eastern Kentucky playing in Romania and has 5.4 ppg in Alexandria.