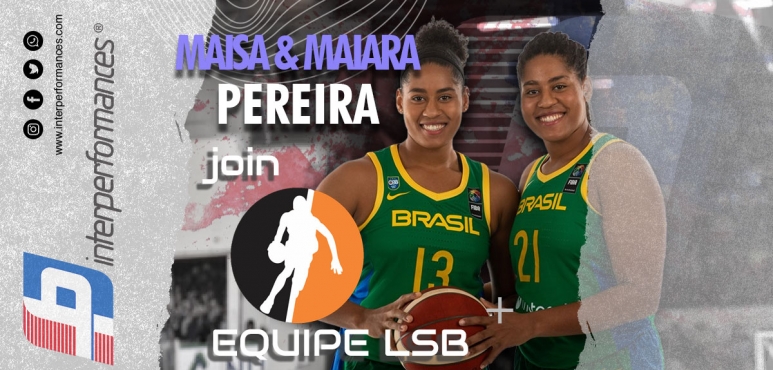 Maisa & Maiara Pereira join Sodie Doces/Mesquita/LSB
The Pereira's sister, Maisa & Maiara join Sodie Doces/Mesquita/LSB team in Brazil.
Maisa and Maiara Dias, stars of the Brazilian Under-19 national team, are the new pieces to strengthen the Mesquite team in the second phase of LBF 2022.

Born in Sà£o Paulo, the twins have already played together in the Brazilian youth team and will compete in the LBF for the first time.

"There are very high expectations, we understand each other too much. We have a lot of connection on the court, we've always played together and it worked out great, we split up last year and we're really excited to share the court again." – Maisa said about playing on the same team as her sister.
Maiara is a center that played in Latvian basketball, with LIEPĀJA/LSSS last season. At the Under-19 Basketball World Cup, which took place in Russia, she led the Brazilian team in efficiency with 13.4, 11.6 points and 9.1 rebounds.
"The goals for the championship is to do my best to contribute to the team and fight at the top of the championship. And individually develop myself further as a player for better opportunities." – Maya said.

Maisa, who played in Lithuania in the previous season for the Neptunas BC team, was also a key member of the National Team at the Under-19 World Cup. She was second with 10.9 efficiency, 10.4 points, 7.9 rebounds and 3.1 assists. She talks about how she feels about having the opportunity to play at SodiઠDoces / Mesquita / LSB:
"It's an incredible feeling, I confess that I've always admired the work of coach Raphael and imagined myself starting my career in the LBF playing there. With the team, I want to contribute to the growth within the championship and add, both as a player and as a teammate. Individually, gain more experience and mature within the national scene."
SodiઠDoces / Mesquita / LSB will start the second round of LBF 2022 playing against Sport / Glà³ria do Goità¡ at home, at Arena Sodiàª, on the 7th of May. The match could mark the duo's debut.