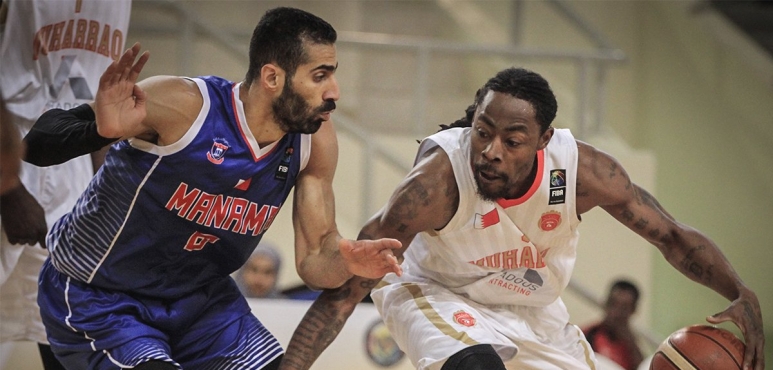 ---
Profile
A very athletic combo guard who does everything.
He is a great slasher to the basket and finishes above the rim with either hand.
Defensively he is a star who plays with a lot of intensity.
He is a big time talent and a great all around player who can do it all.
---
2003-2004: East St. Louis, IL / East St. Louis High School
2004-2005: Missouri Western State University (NCAA2): 14.8ppg, 5.9rpg, 2.7apg, 1.2spg, FGP: 48.7%, 3PT: 40.7%, FT: 76.4%
2005-2006: Missouri Western State University (NCAA2): 17.4ppg, 6.4rpg, 2.9apg, 1.5spg, FGP: 50.3%, 3PT: 42.3%, FT: 77.5%
2007-2008: St.Louis Stunners (ABA): 19.3ppg, 5.8rpg, 2.5apg, 1.3spg, FGP: 53.5%, 3PT: 37.5%, FT: 74.6%; team folded during the season
2008: Warsaw (Eurobasket Summer League in Chicago, starting five)
2008-2009: Panevezys Techasas (Lithuania-LKL, starting five): 8 games: 14.8ppg, 5.0rpg, 2.3apg, 2.1spg; Baltic League (Challenge Cup): 10 games: 12.9ppg, 4.8rpg, 1.9apg, Steals-3(2.6spg), FGP: 52.3%, 3PT: 32.0%, FT: 54.2%
2009-2010: KB Big Brother Bashkimi Prizren (Kosova-SuperLeague, starting five)
2010: Team Athens (Eurobasket Summer League in Chicago, starting five), also played at Team Zurich (Eurobasket Summer League in Las Vegas)
2010-2011: In Jan.'11 signed at Marshall Milton Keynes Lions (United Kingdom-BBL, starting five): 24 games: Score-4(20.4ppg), 5.2rpg, 4.3apg, Steals-1(2.8spg), FGP: 49.7%, 3PT: 40.9%, FT: 75.7%
2011-2012: Marshall Milton Keynes Lions (United Kingdom-BBL, starting five): 31 games: Score-1(24.3ppg), 5.9rpg, Assists-3(4.7apg), Steals-1(2.9spg), FGP: 52.6%, 3PT: 31.8%, FT: 80.6%
2012-2013: BC Kolin (Czech Republic-NBL, starting five): 37 games: Score-5(17.3ppg), 6.6rpg, 2.3apg, Steals-5(1.8spg), FGP: 50.0%, 3PT: 29.5%, FT: 83.2%
2013-2014: AS Apollon Patras (Greece-A1): 21 games: Score-5(15.4ppg), 4.7rpg, 2.8apg, Steals-1(2.4spg), FGP: 38.5%, 3PT: 32.9%, FT: 78.6%, left in March'14
2014-2015: Nift Al-Janoub (Iraq-Superleague, starting five), in Feb.'15 signed at Al Rayyan Doha (Qatar-D1, starting five)
2015-2016: Final Spor Genclik Bursa (Turkey-TBL): 10 games: 18.6ppg, 6.1rpg, 2.5apg, 1.5spg, 2FGP: 44.9%, 3FGP: 41.3%, FT: 84.6%, in Dec.'15 moved to GS Lavrio (Greece-A1, starting five): 16 games: Score-5(15.9ppg), 3.7rpg, 1.6apg, 1.5spg, FGP: 41.5%, 3PT: 43.0%, FT: 87.3%
2016: Sagesse - Al Hekmeh Beirut (Lebanon-Pepsi LBL, starting five): 16 games: 15.8ppg, 5.6rpg, 3.0apg, 1.5spg, FGP: 49.1%, 3PT-3(43.9%), FT: 83.3%
2016-2017: GS Lavrio (Greece-A1, starting five): 26 games: 11.0ppg, 3.0rpg, 1.9apg, 1.0spg, FGP: 41.6%, 3PT: 25.3%, FT: 78.1%
2017-2018: BC Mures Targu-Mures (Romania-Liga Nationala, starting five), then signed at Al Moutahed Tripoli (Lebanon-Pepsi LBL): 21 games: 20.5ppg, 5.2rpg, 3.7apg, 1.6spg, 2FGP: 46.1%, 3FGP: 30.4%, FT: 85.8%, in Mar.'18 moved to Al Wakrah (Qatar-D1), in Apr.'18 moved to Al-Muharraq (Bahrain-Premier League)
2018-2019: GS Kymis (Greece-A1, starting five), left in Nov.'18: 6 games: 10.8ppg, 4.0rpg, 2.3apg, 1.7spg, 2FGP: 40.4%, 3FGP: 31.6%, FT: 75.0%, then signed at Champville (Lebanon-LBL): 13 games: 11.7ppg, 3.1rpg, 2.2apg, 1.6spg, FGP: 44.0%, 3PT: 26.7%, FT: 76.9%
2019-2020: Al Shurtah Police (Iraq-Superleague), in Oct.'19 signed at Atlas Ferzol (Lebanon-LBL, starting five): 1 game: 20pts, 4reb, 1ast, 2steals, in Feb.'20 signed at Groupe Sportif Petroliers Alger (Algeria-D1)
2020-2021: Nift Al-Basra (Iraq-Superleague, starting five): 16 games: Score-1(24.5ppg), 7.5rpg, 2.6apg
2021-2022: Nift Al-Basra (Iraq-Superleague, starting five): 31 pts, 7.9 rpg, 2.7 apg
2022-2023: Al Shorta Police (Iraq-Superleague): 20pts, 5rpg, 4apg, 3steals, 2FG: 48%, 3FG: 36%
Awards/Achievements
Lebanese League Semifinals -2019
Lebanese League Regular Season Champion -2019
Asia-Basket.com All-Lebanese League Honorable Mention -2018
Asia-Basket.com All-Gulf Coast Championship First Team -2018
Gulf Coast Championship Semifinals -2018
Lebanese Pepsi LBL -2018 (Player of the Week Rd.5)
Lebanese League Finalist -2016
Qatari Emir Cup Semifinals -2015
Qatari League Champion -2015
Qatari League Regular Season Champion -2015
Asia-Basket.com All-Qatar D1 First Team -2015
Asia-Basket.com All-Qatar D1 Import of the Year -2015
Asia-Basket.com All-Qatar D1 Guard of the Year -2015
Asia-Basket.com All-Qatar D1 Player of the Year -2015
Asia-Basket.com All-Qatar D1 Finals MVP -2015
Arab Club Championship -2014
Eurobasket.com All-Greek A1 League Honorable Mention -2014, 16, 17
Eurobasket.com All-Czech Republic League Second Team -2013
Eurobasket.com All-British BBL Honorable Mention -2012
British BBL Trophy Semifinals -2012
Eurobasket.com British BBL All-Defensive Team -2011
Eurobasket.com All-British BBL Second Team -2011
Eurobasket.com All-British BBL Defensive Player of the Year -2011
Eurobasket Summer League in Chicago Winner -2010
Eurobasket Summer League in Chicago All-Tournament First Team -2010
Eurobasket.com Kosovo League All-Imports Team -2010
Eurobasket.com All-Kosovo League First Team -2010
Eurobasket.com All-Kosovo League Import Player of the Year -2010
Kosovo League Semifinals -2010
Kosovo Cup Semifinals -2010
All-Eurobasket Summer League in Chicago First Team -2008
Eurobasket Summer League in Chicago Finalist -2008
All-MIAA First Team -2006
Asia-Basket.com Iraqi League All-Imports Team -2021
Asia-Basket.com All-Iraqi League First Team -2021
Asia-Basket.com All-Iraqi League Guard of the Year -2021
Iraqi Superleague -2021 (Player of the Week Rd.21)
Iraqi League Semifinals -2021, 22

Highlights
---
Games
Al-Hashd - Nift Al-Basra 80-79 Date:
December 25, 2020
Bolds Demarius #0
Minutes:
37
Points:
37
Rebounds:
4
Ranking:
37.0
BOXSCORE