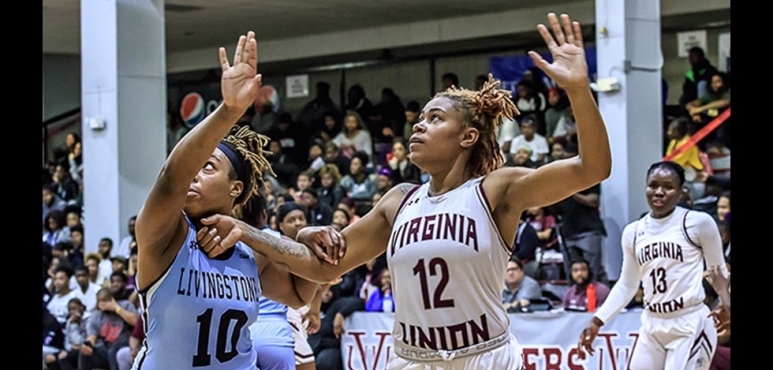 ---
Profile
JASMINE CARTER is a strong, long athletic post player that is a strong rebounder and can score inside near the basket. She graduated this past season (2019-2020)from Virginia Union University, but played very well and was named to the All-Conference CIAA Team and CIAA All-Tournament Team after her season ended in 2020.
She has strong hands to catch the basketball, can score over players on the inside with her back to the basket, or she can face the basket and can score from the outside with her jump shot. She also runs the floor very hard, defends at the top when the coach calls for a full court press, and she can play good defense and block shots.
At the end of the 2018 and 2019 season, she helped lead her college team to two-straight CIAA Conference Championships. In 2020, her college team lost in the semifinals of the CIAA College Tournament and did not win a third straight championship, but Jasmine scored 9 points, 9 rebounds and 2 steals in the game.
Jasmine has the skill to average a double-double in points and rebounds when she plays in games. In the 2019 CIAA College Championship game, she had a double-double scoring 18 points and 14 rebounds. She is a very hard worker and plays strong.
---
2014-2015:

Richmond, VA / John Marshall High School




2016-2017:

Virginia Union University (NCAA2)


2017-2018:

Virginia Union University (NCAA2)

31 games, 18.3 minutes per game; 5.4 ppg; 6.3 rpg; 0.4 apg; 0.8 steals per game; 60.4% - 2-FG%; 53.3% - FT%


2018-2019:

Virginia Union University (NCAA2, starting five)

31 games, 27.9 minutes per game; 7.9 ppg; 10.1 rpg; 0.6 apg; 1.1 steals per game; 1.0 blocks per game; 55.4% 2-FG%; 69.8% FT% - Led team in rebounds and tied for first in blocked shots


2019-2020:

Virginia Union University (NCAA2, starting five)- 27 games, 28.8 minutes per game; 10.5 ppg; 7.9 rpg; 1.1 apg; 1.3 steals per game; 0.8 blocks per game; 57.4% - 2-FG%; 56% - FT% - Led team in rebounds and blocks
Awards/Achievements
NCAA D2 Finalist -17

Two-straight CIAA Conference Championships in 2019 and 2020.

Jasmine was named to the CIAA All-Tournament Team in 2019, as one of five best players in the CIAA Conference Tournament.
Jasmine was named CIAA Conference Player of the Week on January 13, 2020, after averaging in 3 games 16 ppg and 9.6 rpg. -
Highlights
---
Games
Virginia Union Vs Cal University of Pennsylvania - November 2019
Jasmine Carter #12 Black jersey
9 points and 12 rebounds

---
Virginia Union Vs Virginia State
Jasmine Carter #12 Dark
25 minutes
6 points
11 rebounds
2 blocks