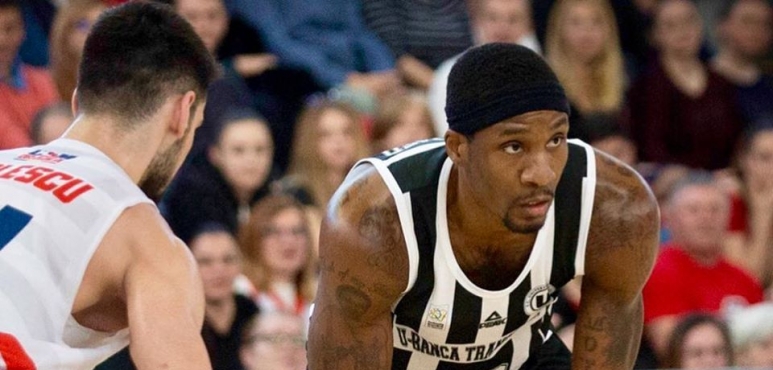 ---
Profile
His athleticism exudes a combination of confidence, grace and raw power when on display, and he has been given free reign to explode in ball games, often bringing onlookers to their feet, and turning the heads of any who may have had doubts about his experience.
Mohammed's strengths are his athleticism, knowledge of the game and his willingness to listen to coaches. His defensive game has evolved into one of the grittiest around the league.
His opportunities are very much the traits that play into his strengths. His unabashed initiatives often results in his poster-inspiring moves and finishes.
Any team that overlooks Mohammed is overlooking potential explosiveness and a player that will put people in the stands.
---
Chicago, Ill. (Ventura College)
2000-2001: Ventura (JUCO): 13.0ppg, 4.2rpg, 3.1apg
2001-2002: University of Louisville (NCAA): 24 games: 4.0ppg, 1.7rpg, 1.2apg
2003-2004: University of Louisville (NCAA): 30 games: 4.6ppg, 2.0rpg, 1.2apg
2004 July: Minnesota Summer League in Minneapolis, MN (Philadelphia 76ers)
2004-2005: Idaho Stampede (CBA, starting five): 48 games: 9.7ppg, 2.2rpg, 2.2apg, 1.3spg, FGP: 50.7%, 3Pts: 16.1%
2005: Utah Summer League (San Antonio Spurs)
2005-2006: Matrixx Magix Nijmegen (Holland-Eredivisie): 20 games: 18.1ppg, 5.1rpg, 2.3apg, 2.3spg
2006: Kentucky Pro Am (Louisville's Finest)
2006 - In June re-signed with Matrixx Magix Nijmegen for 2 Years
2006-2007: Matrixx Magix Nijmegen (Holland-Eredivisie): 34 games: Score-1(23.2ppg), 5.4rpg, 1.7apg, 1.8spg, FGP: 49.8%, FT: 62.5%, 3Pts: 32.0%
2007-2008: In Oct.'07 signed at Paderborn Baskets 91 (Germany-1.Bundesliga): 9 games: 7.4ppg, 1.6rpg, 2FGP: 52.8%, 3PT: 40.0%, FT: 52.4%, in Dec.'07 moved back to Matrixx Magix Nijmegen (Holland-Eredivisie, starting five): 21 games: Score-1(19.6ppg), 4.3rpg, 2.6apg, 2.0spg, FGP: 50.8%, 3PT: 33.3%, FT: 54.0%
2008: Hoops Kentucky Pro Am Tournament (Texas Roadhouse)
2008-2009: Limoges CSP Elite (France-ProB, starting five): 38 games: Score-3(19.2ppg), 4.4rpg, 2.7apg, 1.5spg, FGP: 54.7%, 3PT-3(42.9%), FT: 50.3%
2009: Hoops Kentucky Pro Am Tournament (Team Stone)
2009-2010: Limoges CSP Elite (France-ProB, starting five): 38 games: 15.8ppg, 4.0rpg, 3.3apg, 1.6spg, FGP: 64.7%, 3PT: 32.2%, FT: 61.7%
2010-2011: CE CIP Lleida Basquetbol (Spain-LEB Gold, starting five): 33 games: Score-3(16.2ppg), 3.5rpg, 2.2apg, 1.0spg, FGP: 59.4%, 3PT: 33.3%, FT: 62.5%, in May .'11 he moved to Towzin Electric Kashan (Iran-Superleague)
2011-2012: Al Kuwait SC (Kuwait-D1)
2012-2013: Blancos de Rueda Valladolid (Spain-ACB): 18 games: 4.2ppg, 1.2rpg, 1.1apg, in Feb.'13 moved to CSU Asesoft Ploiesti (Romania-Liga Nationala, starting five): 22 games: 13.9ppg, 3.6rpg, 2.0apg, 1.3spg, FGP: 61.4%, 3PT: 37.6%, FT: 50.0%
2013-2014: CSU Asesoft Ploiesti (Romania-Liga Nationala, starting five): 32 games: 16.8ppg, 4.6rpg, 3.2apg, 1.4spg, FGP: 65.9%, 3PT: 32.8%, FT: 58.3%; Eurocup: 10 games: 14.3ppg, 3.4rpg, 2.7apg, 1.5spg, FGP: 51.5%, 3PT: 43.2%, FT: 59.3%
2014-2015: CSU Asesoft Ploiesti (Romania-Liga Nationala, starting five): 11 games: 13.2ppg, 3.8rpg, 3.5apg, 1.5spg, FGP: 64.4%, 3PT: 20.0%, FT: 51.4%; Eurocup: 16 games: 11.3ppg, 3.9rpg, 2.4apg, 1.3spg, 2FGP: 47.2%, 3FGP: 28.9%, FT: 54.0%, left in Feb.'15, later that month moved to Sluc Nancy Basket Pro (France-ProA): 5 games: 8.8ppg, 2.8rpg, 1.8apg, FGP: 48.1%, 3PT: 45.5%, FT: 75.0%, left in Apr.'15
2015-2016: Sigal Prishtina (Kosovo-SuperLeague): Balkan League: 2 games: 12.0ppg, 4.0rpg, 2.0spg; Kosovan SuperLeague: 4 games: 9.3ppg, 2.8rpg, 1.5apg; FIBA Europe Cup: 3 games: 4.3ppg, 1.0rpg, 2.3apg, 1.0spg, in Nov.'15 moved to BC Mures Targu-Mures (Romania-Liga Nationala, starting five): 31 games: Score-1(19.3ppg), 5.4rpg, 4.1apg, Steals-5(1.5spg), FGP: 57.8%, 3PT: 33.9%, FT: 70.4%
2016-2017: BC Mures Targu-Mures (Romania-Liga Nationala): FIBA Europe Cup: 6 games: 16.2ppg, 2.5rpg, 1.8apg, 1.3spg, 2FGP: 53.3%, 3FGP: 23.7%, FT: 57.9%; Romanian Liga Nationala: 10 games: 16.2ppg, 3.9rpg, 2.9apg, 1.3spg, 2FGP: 53.6%, 3FGP: 30.2%, FT: 69.0%, in Feb.'17 moved to TLI-Alba Fehervar (Hungary-A Division, starting five): 26 games: 12.1ppg, 2.8rpg, 3.0apg, 1.1spg, FGP: 62.6%, 3PT: 30.9%, FT: 62.0%
2017-2018: Alba Fehervar (Hungary-A Division, starting five): 27 games: 11.8ppg, 2.7rpg, 2.4apg, 1.2spg, FGP: 54.7%, 3PT: 36.6%, FT: 59.2%; FIBA Europe Cup: 8 games: 5.6ppg, 1.3rpg, 1.5apg, FGP: 44.1%, 3PT: 14.8%
2018-2019: In Dec.'18 signed at ADA Blois Basket 41 (France-ProB): 10 games: 8.1ppg, 2.5rpg, 1.5apg, 2FGP: 48.7%, 3FGP: 32.3%, FT: 54.2%, in Mar.'19 moved to U-Banca Transilvania Cluj Napoca (Romania-Liga Nationala): 11 games: 9.6ppg, 1.3rpg, 1.5apg, FGP: 56.9%, 3PT: 35.7%, FT: 64.3%
Awards/Achievements
Ventura College 1st Team All Conference -00
Louisville Conf USA Tournament Champion -03
Dutch Eredivisie All-Star Game -06, 07
Dutch Cup Semifinals -06
Dutch Eredivisie Leading Scorer -07
All-Star Games MVP -07
Dutch Eredivisie Finalist -07
Dutch Eredivisie Regular Season Runner-Up -07
Dutch Cup Winner -07
Eurobasket.com All-Dutch Eredivisie Guard of the Year -07
Eurobasket.com All-Dutch Eredivisie 1st Team -07
Eurobasket.com Dutch Eredivisie All-Imports Team -07
Dutch Eredivisie Semifinals -08
French ProB Finalist -09, 10
Eurobasket.com All-French ProB 2nd Team -10
French ProB Regular Season Runner-Up -10
French Cup Semifinals -10
Iranian Superleague Semifinals -11
Kuwait Supercup Winner -12
Kuwait League Regular Season Runner-Up -12
Kuwait League Finalist -12
Romanian Cup Semifinals -13, 14
Eurobasket.com All-Romanian League Finals MVP -13, 14
Eurobasket.com All-Romanian League Honorable Mention -13
Romanian League Champion -13, 14
Romanian League All-Star Game -14, 16
Eurobasket.com All-Romanian League Guard of the Year -14, 16
Eurobasket.com All-Romanian League 1st Team -14, 16
Eurobasket.com Romanian League All-Imports Team -14, 16
Romanian League Regular Season Champion -14
Romanian League Finalist -16
Hungarian Cup Winner -17
Hungarian League Regular Season Champion -17
Hungarian League Champion -17
Hungarian League Semifinals -18
Romanian League Semifinals -19
Highlights
---
Games

Cluj Napoca - Timisoara 95-86 Date: March 23, 2019

Mohammed Alhaji #13 black/white
Minutes: 17
Points: 16 2FG: 3-5 3FG: 3-5 Free Throws: 1-1 Rebounds: 2 Assists: 2 Ranking: 15.0

BOXSCORE

---

Cluj Napoca - Craiova 89-82 Date: May 26, 2019

Mohammed Alhaji #13 black/white
Minutes: 16
Points: 13 2FG: 3-3 3FG: 1-4 Free Throws: 4-6 Rebounds: 1 Assists: 2 Steals: 1 Ranking: 11.0

BOXSCORE