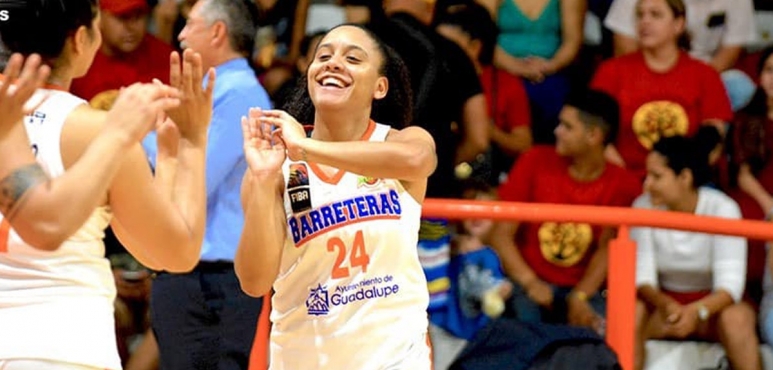 ---
Profile
KIARA QUINONES-NOA is a true point guard that can also play shooting guard. She has played five (5) years of professional experience playing in the first division of the Puerto Rico Pro League, and Kiara has also played for the Puerto Rico National Team. She is a good playmaker, a good shooter that can score with her jump shot, a strong defender, and is a tough player.
In Puerto Rico's pro league, she helped her professional club - Gigantes de Carolina - win 3-straight league championships, and she won the league's Sixth Woman of the Year Award two (2) times. In 2019-2020 season, Kiara played for Club Indios de Mayaguez in the Puerto Rico Pro League. When the Puerto Rico league season ended in 2020, Kiara then went to play for Club Barreteras in the Mexico Pro League (LMBPF), before the season was suspended because of the coronavirus.
Kiara is a very experienced player with international basketball, and likes to attack to push the ball on the fast break. She likes to play in an up-tempo, fast style of offense looking to drive to the basket or shoot the open 3-point shot. Kiara is a very strong ball-handler with the basketball and makes good decisions when she plays. Her highlight and game videos show that she is a quick point guard that can get by her player, can drive to the basket to score, or she can pass the ball to her players inside for easy baskets. But, she is also a physically strong guard that is able to absorb contact when she drives to the basket, and she can score and finish with either her left hand or her right hand.
She knows how to coach a team on the court. She also has a very good outside shot and can score off the dribble or can catch and shoot. She is also able to pass the basketball to get assists. She can get steals on defense and plays strong on-the-ball defense on the other team's point guard. She can also post up smaller guards, and she is able to score inside against taller players when she drives to the basket.
Kiara has the skill to be a good point guard that makes good decisions with the basketball. She also trains very hard in practice, plays hard during games, and she is in very good game shape.
---
Fajardo
2011:
Gigantes de Carolina (BSNF): 3 games: 5.3ppg, 1.3rpg, 1.0apg, left in September
2013:
Gigantes de Carolina (BSNF): 19 games: 4.2ppg, 1.1apg
2014:
Gigantes de Carolina (BSNF)
2015:
Gigantes de Carolina (BSNF, starting five): 24 games: 4.0ppg, 1.3rpg
2016:
Gigantes de Carolina (BSNF): 29 games: 4.5ppg, 1.3rpg, 1.7apg
2017:
Santeras de Aguada (BSNF, starting five): 3 games: 6.3ppg, 2.7rpg, 3.0apg, 1.0spg, FGP: 26.3%, 3PT: 25.0%, FT: 60.0%
2018:
Cangrejeras de Santurce (BSNF, starting five): 19 games: 5.2ppg, 1.5rpg, FGP: 43.2%, 3PT: 33.3%, FT: 59.4%
2019:
Indios de Mayaguez (Puerto Rico-BSNF): 9 games: 11.8ppg, 2.9rpg, 5.1apg, 2FGP: 29.3%, 3PT: 23.3%, FT: 55.1%
2020:
Barreteras (Mexico-LMBPF, starting five)
34.5 minutes per game, 13.5 ppg, 1.5 rpg, 1 apg, 33.3% 2-FG, 33.3% 3-FG
Awards/Achievements
FIBA Americas U18 Championships in Colorado Springs (USA) -10
Puerto Rican U18 National Team -10
Puerto Rican BSNF Regular Season Runner-Up -13
FIBA Americas in Xalapa (Mexico) -13 (Semifinals)
Puerto Rican National Team -12-13
Latinbasket.com All-Puerto Rican BSNF Sixth Player of the Year -14
Puerto Rican BSNF Champion -14, 15, 16
Puerto Rican BSNF Regular Season Champion -14, 15, 16
Puerto Rican BSNF All-Star Game -16, 18
Puerto Rican BSNF Semifinals -13, 18

---
Games
#24 white
22 points
---
#24 white
17 points